By CHRIS SUAREZ | on 23 April 2017
Abstract
Action & dialogue needed to welcome immigrants. The money for Legal Aid will go toward legal representation for about a dozen immigrants who are in the process of being deported. The funding also will support "Know Your Rights" seminars and emergency preparedness workshops, where families prepare legal documents to confirm who will care for their children or manage their personal property if they are deported.
Description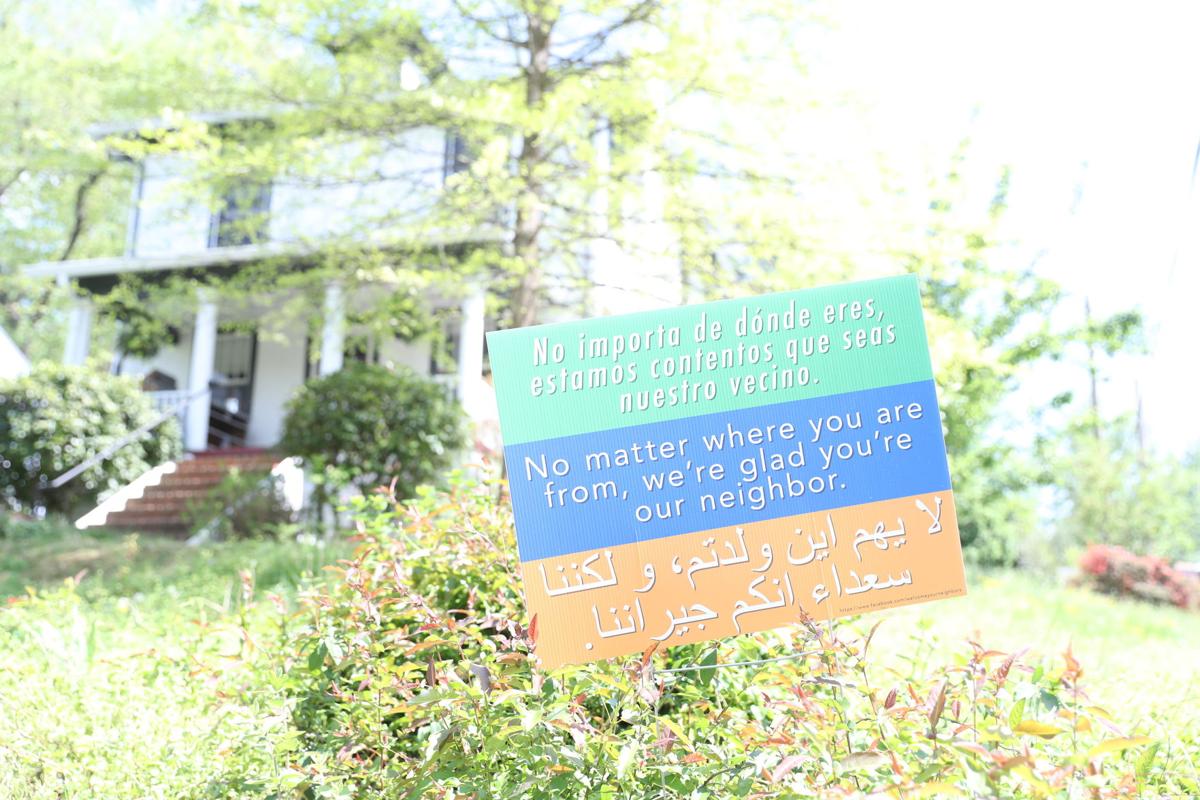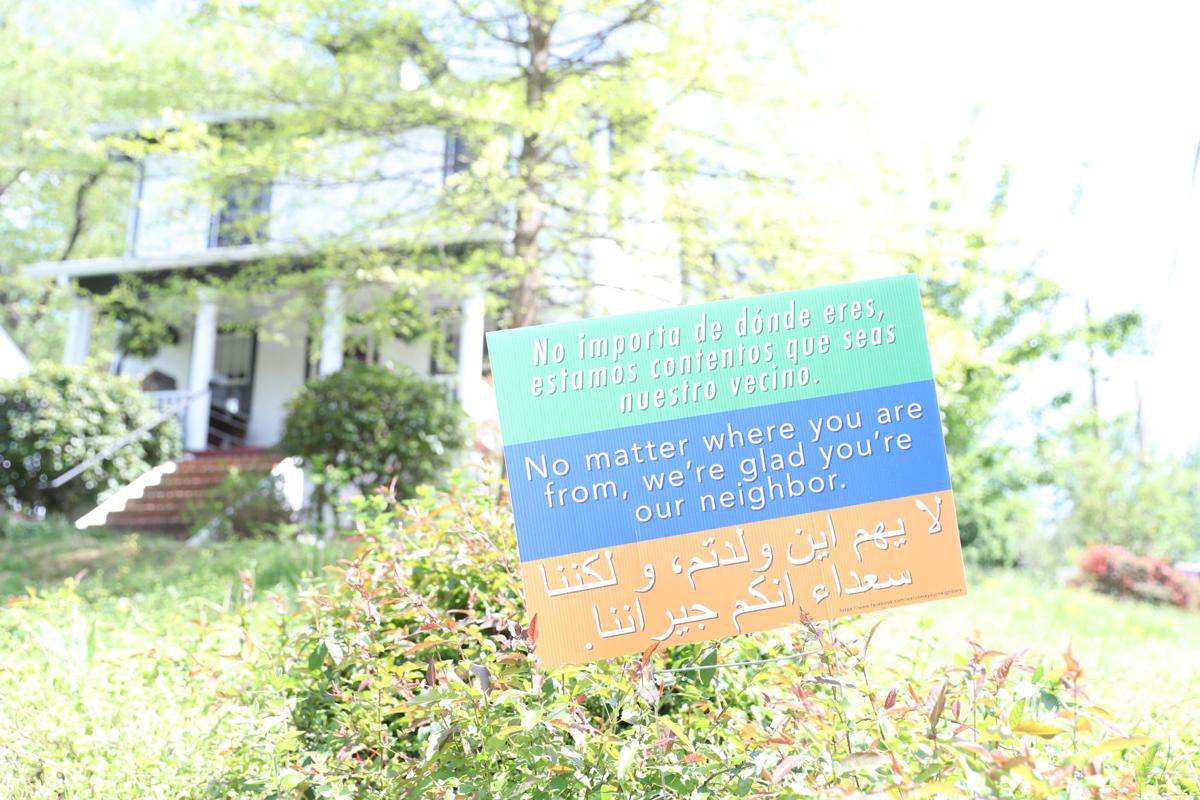 Ryan M. Kelly. A sign in the front yard of a house reads "No matter where you are from, we're glad you're our neighbor" in Spanish, English and Arabic.
The Charlottesville City Council last week allocated $10,000 to assist the Legal Aid Justice Center's efforts to represent local immigrant families.
The move is part of a larger resolution updating a commitment that the council made in 2015 to create a welcoming community for its immigrant residents.
The money will assist the center's programs that represent and help local immigrant families.
Following Mayor Mike Signer's declaration earlier this year that Charlottesville is a "Capital of the Resistance" against the current White House administration's policies, the City Council passed the new resolution Monday, citing a growing "climate of fear" in the community and across the country.
"In the past, we've seen people get involved in the immigration system when they're somehow involved with the criminal justice system — that can be because of a traffic incident," said Mary Bauer, executive director of the Legal Aid Justice Center.
"But now, we're seeing a much higher level of concern from immigrants who are just living their lives and who have not been caught up in the system," she said. "The fear is that even the most minor thing can get them in the system and destroy their family."
In a report to the city, Legal Aid officials said local census data show about 18,000 foreign-born residents living in Charlottesville and the surrounding area. The majority of those residents are from Central American countries such as Mexico, Guatemala, Honduras and El Salvador.
The money for Legal Aid will go toward legal representation for about a dozen immigrants who are in the process of being deported. The funding also will support "Know Your Rights" seminars and emergency preparedness workshops, where families prepare legal documents to confirm who will care for their children or manage their personal property if they are deported.
Bauer said Immigration and Customs Enforcement raids have not been widespread in Charlottesville, but the immigrant community here is still afraid.
"In Charlottesville, we haven't seen ICE raids like that," she said. "It's not that it won't happen; it's happening elsewhere [in Virginia.]"
Initially, Signer was interested in seeing what the local government could do to make Charlottesville a so-called "sanctuary city," but he pulled back on using the term before holding a large rally outside of City Hall on Jan. 31.
Nonetheless, he and other city officials have agreed to promote a progressive message about the city's stance on refugees and immigrants in Charlottesville.
"The single biggest policy initiative out of that was that we wanted to craft a policy, that we've been advised on by our city manager and stakeholders, on what we could say about immigration issues in our community," Signer said during Monday's meeting.
Throughout the course of his election campaign, President Donald Trump promised to take a strong stance against illegal immigration and the acceptance of Muslim refugees into the country.
Following Trump's election, Signer and other local officials met with local agencies and faith community leaders that serve large segments of the local Latino and Muslim communities in Charlottesville.
"They need this kind of reassurance — they need to know where we are as a policy-making body," Signer said of the new immigration resolution.
"I believe this will also provide them the reassurance that they need from this community where they have moved, where they are raising their families and where they came to fleeing tyranny," he added.
"There are families being affected locally" by the Trump administration's policies and recent executive orders banning refugees from Syria and immigrants from several Muslim-majority countries, said Karim Ginena.
Ginena, a member of the Islamic Society of Central Virginia and a doctoral candidate at the University of Virginia's Darden School of Business, spoke at Signer's Jan. 31 rally, two days after the mayor visited the center's mosque.
"I would say people here are mostly welcoming, and there's a supportive atmosphere, whether it's local officials or citizens," Ginena said of the council resolution and public activism that has sprung up in recent months. "That doesn't mean there are people with other views. But I think the broader community supports the sense of solidarity."
On Sunset Avenue Extended in Albemarle County, Susan McCulley's yard is one of many with a tri-colored sign that reads, "No matter where you are from, we're glad you're our neighbor" in English, Spanish and Arabic.
"For me, what's important in the measure of a person, community or country is how we treat the most vulnerable," she said.
McCulley, a personal fitness and wellness instructor, said she's probably ordered more than 100 of the signs for her friends and neighbors after they expressed interest in the one in her yard.
McCulley said she did not think about how divided the community might be over federal immigration policy prior to the election. "Since [then], I felt like it's really important to make it clear what I think about how to treat people," she said.
"I've never even put up a political sign up in my yard before," she added.
Dan Katz, a spokesman for Creciendo Juntos, a community agency that connects Latino families with bilingual health and social service providers, said the signs and the council's resolution are well-intentioned but that people should do more to assist the area's immigrant communities.
"In certain liberal, progressive circles, there's reassuring dialogue happening. And in certain neighborhoods you see those signs — but that's not translating to a family in Southwood that might have an undocumented parent and two children that are citizens," he said.
"I don't think you put out a press release or a policy and that makes families feel safe. There's a lot of distrust and fear. You don't overcome that with words. You do it with action and dialogue," he said.
Katz said he's generally encouraged by the response of the community to political rhetoric and policies that affect immigrant communities.
"I see it's happening, and I'm encouraged by it, but I see it as a beginning to a response," he said, adding that he feels responsible to do more to foster better connections between the disparate communities and between local authorities and immigrants.
Katz noted that he has felt reassured that local authorities in Charlottesville and Albemarle County said they will not seek to identify and arrest people on the suspicion that they might be illegal residents.
Although the good-will and neighborly signs — which originated at a Mennonite church in Harrisonburg — have become ubiquitous throughout Charlottesville and parts of Central Virginia, the message does not resonate with everyone.
Nationally and locally, conservative media pundits and commentators have pointed to crimes committed by Hispanic immigrants, coupling those police reports with calls for tighter restrictions on immigration and a crackdown on those residing here illegally.
Signer alluded to those concerns Monday, pointing to a section of the resolution that says the city "defers to the considered judgment of our law enforcement and public safety professionals" in regards to the policies they use.
"This is the wisdom we've received from our police, our jails and our prosecutor," Signer said. "We trust them to keep our community safe, and that's reflected in our ordinance."
Erich Reimer, the recently elected chairman of the Charlottesville Republican committee, offered a tempered, but critical, impression of the council's resolution.
In an interview Wednesday, the day after he was elected to lead the city's Republican committee, the 26-year-old UVa law student said he would like to change the public perception of the Republican Party and improve its appeal to minority communities in the area.
"I think a lot of the general sentiments expressed in the original 'Welcoming City' resolution and the updated version reflect many of our shared American values," he said in an email Thursday. "However, I worry that the update continues a worrying trend by the City Council to at times drag divisive national issues unnecessarily into local affairs."
Reimer said people's constitutional and legal rights should be respected, but he took aim at the council's $10,000 contribution to the Legal Aid Justice Center.
"We should also be careful with how we spend limited taxpayer money, especially when both the city budget and property assessments, and the consequent tax burdens, are increasing, and when there are so many groups out there that are in need of assistance," he said.
Source: http://www.dailyprogress.com/news/local/action-dialogue-needed-to-welcome-immigrants/article_9b502506-27b5-11e7-8724-dbe55b015473.html
Author: CHRIS SUAREZ
Publication date: 23 April 2017
Address of the Contact Person: USA